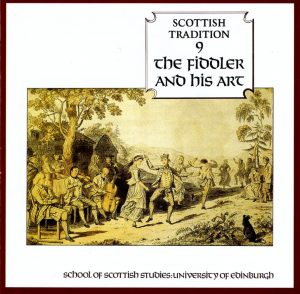 The Fiddler and His Art (CDTRAX 9009 MONO) has been one of the best selling records released by the University of Edinburgh's School of Scottish Studies from its huge audio archive and issued as part of its acclaimed Scottish Tradition Series . The compilation first appeared in 12" vinyl format with a large booklet that contained among the extensive documentation a series of detailed transcriptions of several of the performances. When the record was re-issued by Greentrax in CD format there was little room on the insert slip for documentation nor for transcriptions. A few notations were included with the fulsome notes on the players and their performances in an A5 booklet published separately by Greentrax. Both the booklet (Price £1)  and the CD (£12) are still available; visit (http://www.greentrax.com/music/category/Scottish-Tradition-Series).
Seven other notations were never published at the time and I include them here. These are working copies made by Fulbright scholar Dr Peggy Duesenberry while conducting her own doctoral research at the School (see her Ph.D. thesis Fiddle Tunes on Air: A Study of Gatekeeping and Traditional Music at the BBC in Scotland, 1923 – 1957 (University of California Berkeley, 2000).  The transcriptions of track 14 were my own work as Series Editor.
We were both fascinated by the unique bowing techniques used by the artists. In the mid 1980s there were few sophisticated tools to aid music transcribers, though for some I found a frame-by-frame play-through of 16mm movie film very useful in noting bow direction and changes. There's no room here to give the often detailed notes about each of the performances – for those you'll need to get the booklet.  Not all tracks are included here and – with regard to the audio – only the opening of each item is presented. They give you an idea of the tempo, timbre and musical style of each player, but if you haven't already got it, buy the CD!
Track 1a. Donald MacDonell (West Highlands) playing  Lady Madelina Sinclair (strathspey). Transcr. Peggy Duesenberry.  Actual pitch was a tone lower. Just the opening is given here.
Track 1b. Donald MacDonell – Sandy Cameron (reel) . Follows on from the strathsepy.  From D on some of the bowings are uncertain but he begins with an up-bow. N.B. A diagonal stroke through the tail of any one of a pair of beamed quavers indicates that that quaver is some what shorter than its companion but not so short as to make it a semi-quaver and its companion a dotted quaver.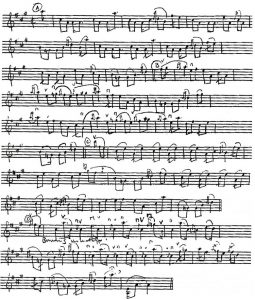 Track 3a Donald MacDonell – The Atholl Highlanders' March to Loch Katrine. The lower of the bracketed pair of staves shows small differences during the repeats.
Track 4 Donald MacDonell –  Gabhaidh Sinn an Rathad Mor  (We will Take the High Road).  Just the opening is given here.  MacDonell sounds the open A string continuously as a drone throughout – in imitation of a bagpipe.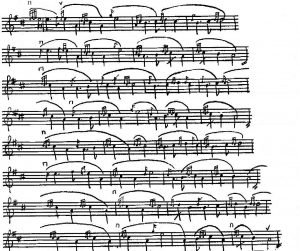 Track  5a.  Hugh Inkster (Orkney).  The Renfrewshire Militia (march).  Part only; the lower of the two staves shows what is played during the repeat. He begins with a very brief prelude before launching into the march.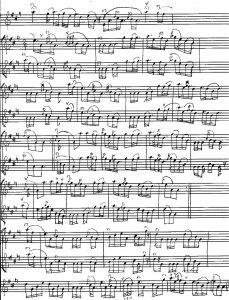 Track  5.  Hugh Inkster. Inganess (march).  Composed by Hugh and performed here on a Stroh fiddle.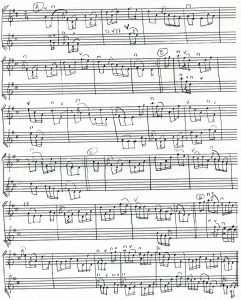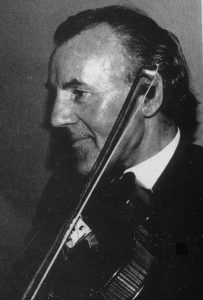 Track 10. Albert Stewart. Niel Gow's Lament forWhisky aka Farewell to Whisky.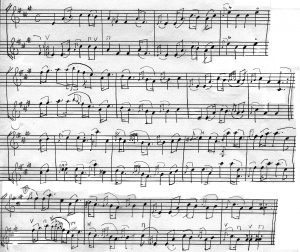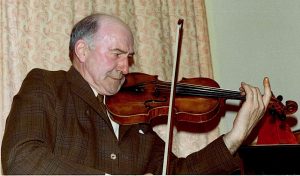 Track 14a. Hector MacAndrew – Mrs Major Stewart of the Island of Java (slow air).

 Track 14b. Hector MacAndrew – Madame Frederick (slow Strathspey).

 Track 14c.  Hector MacAndrew – Earl Grey (strathspey).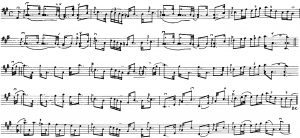 Track 14d.  Hector MacAndrew – Waverley Ball (reel).