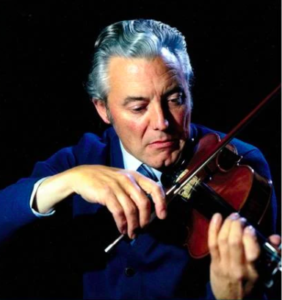 It's 38 years since I spent a long weekend in Lerwick privileged be recording the violin playing of 'Young' Willie Hunter and his accompanist Violet Tulloch. On my return I posted a master copy of those fine sessions to the late Dave Bulmer of Celtic Music so that he could market an album entitled Willie Hunter. That recording, first issued as a vinyl LP in 1982 and later on CD, has very sadly not been available for years and Celtic Music folded a few years after Dave Bulmer's death in 2013.
Sadly also Willie and Violet's two later albums — Leaving Lerwick Harbour and The Willie Hunter Sessions were made when Willie was past his best as a fiddler: he died of cancer in 1994.
Each time on later visits around the turn of the century I was asked by Violet and many more Shetlanders why the Willie Hunter record was no longer available. I had no answer for them and t
here was no indication that it would ever be re-issue
d. 

But now here it is – some prime listening for you – younger Shetlanders especially!
Although I've had to compress the original files to Mp3 format, Willie's sparkling virtuosic playing still shines through, along with the very musical support given by Violet at the keyboard. It's a nice task to undertake when one is self-isolating, – mainly because of the Covid 19 virus and also because I spend a lot of time chair-bound after various illnesses and accidents.
On the back of the original album's sleeve is an informative note, composed mostly by Violet and Willie. It runs as follows:-
The extraordinary 

fiddling

 prowess of Shetland players has been recognised for at least 200 years, though only recently has the fame of the finest Shetland exponents spread far beyond their native islands. Players like Aly Bain, Tom Anderson and Arthur Robertson have been heard on record over the years, but the reputation of 

Willie Hunter has gone before him, and not only is this first solo 

album eagerly awaited by enthusiasts everywhere, but one of the finest talents in Scottish fiddling will be heard by a much wider public,

"Young" Willie Hunter was born in 1933 and like many Shetlanders got his earlier lessons from his father "Old" Willie – himself a fiddler of some repute, especially in traditional Shetland music. Willie was a fiddle enthusiast from early days; his mother recalls that even as a child the fiddle was taken to bed, in case the lessons of the day needed some rehearsing. As an older boy he took lessons from the late Gideon Stove, a talented Lerwick fiddler and composer, and also from Geoffrey di Mercado, a fine player with a background in classical music.


However, Willie declined the opportunity of leaving Shetland for classical training, and continued to practise and to play at local concerts, often with his sister Lorna as accompanist. Later he gained experience playing in local bands and, as an enthusiast of Scottish dance music, was influenced at an early age by the visits to Shetland of famous bands such as Shand, McLeod and Cameron. More recently Willie became a founder member of Shetland's best known band, The Hamefarers,

Much on this album is drawn from the music of the self-styled Strathspey King, James Scott Skinner (1843-1927), whose compositions have long been favourites in Shetland, originally made popular through old 78r.p.m. recordings, but also performed by visiting musicians, among whom the best known was "Da Blind Fiddler", George Stark of Dundee who played around the streets of Lerwick and at dances and concerts in Shetland for several decades.

On more than one occasion Willie visited the late Hector MacAndrew, whom he greatly admired and who was more than willing to demonstrate his skill in the art of playing in the North East style.

Another player who has earned Willie's admiration is Angus Fitchett, and in fact he learned some of Skinner's tunes such as "The Dying Year" and "The Autocrat" from Fitchett's early records. T

wo years ago, Angus presented Willie with the music for his own composition "Lament for the death of Will Starr". Along with Skinner's "Young King". Shetlanders have always enjoyed Irish music, and Willie's meetings with the great maestro Sean McGuire were the inspiration for his Irish selection.


Although mainly Scottish in character, a sprinkling of modern Shetland pieces rounds off the selection. "Billy's Welcome to Canon Park" was composed on the birth of his own son when Willie was serving with the R.A.F. in England. "Da Auld Resting Chair" is considered among the best tunes Tom Anderson ever wrote. "The Modest Fiddler" is Arthur Roberston's tribute to Willie Hunter senior, and the other new Shetland tune is "John Pottinger's Compliments to Ronnie Cooper", whose recent death was a great blow to many Shetland people.

Nicely written and giving most useful contextual information on the music.
Now here are the tunes – enjoy them and use headphones for better quality sound!                   

Peter Cooke, March 2020.

————————–
1. The Duke of Fife's Welcome to Deeside, Glen Grant Strathspey and The Gladstone Reel.z
The Strathspey, sandwiched between two of James Scott Skinner's tunes, is by Peter Milne (1824-1908), otherwise known as 'The Tarland minstrel'.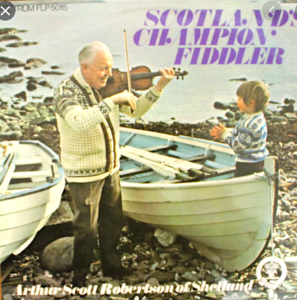 2. John Roy Lyall – The Modest Fiddler – Billy's Welcome to Canon Park
Eddie Edmond – a band leader in the north east of Scotland in the 1960s-70s composed this first air to his father-in law. Arthur Robertson's The Modest Fiddler refer's to Willie's father while the third tune as mentioned earlier commemorates to the birth of Willie's son.
3. The Lament for Will Starr – The Young King
Angus Fitchett played in  a trio for some years  with Will Starr, a consummate accordionist and band leader who died in 1976. In contrast The Young King is one of Scott Skinner's lively hornpipes.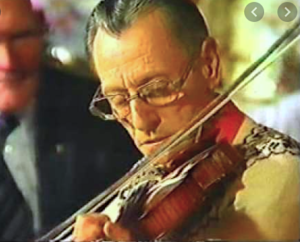 4. Irish Reels: The Bantrey Lasses – Peeler's Jacket – Music in the Glen
One of Ireland's all-time stars who visited Shetland  more than once.

5. Big Dougal
One of Finlay Powrie's several slow airs.

6. Cape Breton Reels: Trip to Windsor – Mrs Norman McKeegan – The Devil's Dream.
Shetland has long had close connections with Cape Breton, musically as well as in other ways. The first two  tunes are the work of Dan R McDonald (1911-1976) – 'Danner' –  one of Cape Breton's best known musicians.  His widely popular Trip to Windsor  can be found in the collection of that name, published by John Donald Cameron in 1994. The Heather Hill Collection (1985/2000) is home for the other two tunes. Several Devil's Dream tunes are known to exist  including one in Thomas Wilson's 19th century Companion to the Ballroom while Willie's tune in the Heather Hill  Collection, bears the title The Devil's Delight  'arranged by the Scots fiddler J. Murdoch Henderson' whom he met during visits to the Scotland and who gave him some lessons. My thanks go to the American fiddler/researcher Dr. Paul Wells for help in clarifying the sources of these tunes.

7. The Dean Brig o' Edinburgh – The Banks Hornpipe
Two well justly well-known 19th-century compositions: the first by Airchie Allen and the second by Scott Skinner.

8. Arthur's Seat – Eugene Stratton – Madam Neruda

Scott Skinner composed all three of these testing pieces.

9. Mr Michie – John Pottinger's Compliments to Ronald Cooper – The Rocket
Mr Michie is one of Angus Fitchett's marches, first published after this record, in 1988. Apparently John Pottinger only wrote one tune, but as one reviewer has written "what a cracker"! The Rocket was written in 1773 in the Complete Collection of Favourite Country Dances where it is labelled Anon.

10. Shetland Reels: Jack Broke da Prison Door – Donald Blue –  Sleep Sound in da Morning – Lasses Trust in Providence – Da Boanie Isle o Whalsay
Five justly popular tunes representative of Shetland's own large repertoire.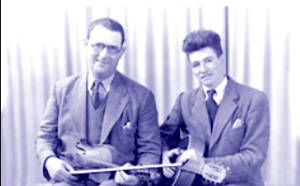 11. The Auld Resting Chair -Happy Tom – Miss Shepherd
The first piece is Tom Anderson's best known slow air. The other two pieces are the work of Scott Skinner who delighted  in writing and playing 'Scotch Snaps' whenever suitable, as in Happy Tom.

12. P.M. Willie Gray's Farewell – The Iron Man – The Bungalow
The famous south Uist musician Seoneid Rodein, otherwise known as John MacDonald,  Pipe Major of the Glasgow City Police Pipe Band, wrote the first. It's a classic among pipers, but one which fits the fiddle extremely well. The other two tunes are from Scott Skinner's pen – The Iron Man being from a manuscript dated 1923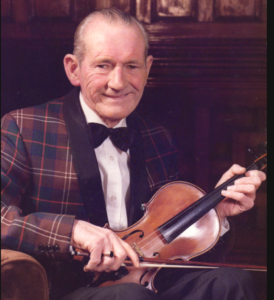 13.The Dying Year – The Autocrat – The Dean Brig Reel
The Dying Year is the work of J.D, Michie who wrote it in 1935 , dedicating it to Angus Fitchett. Willie Hunter learned the other two from Angus' records. The last named was composed by 'The Tarland Minstrel', Peter Milne  (1824-1908). He was an associate of Scott Skinner and at times a theatre musician. It was published in in Middleton's Collection of Strathspey Reels

14. Fiddler's Cramp – Carnie's Canter.
Two late 19th-century challenges: the first is  from Kohler's Violin Repository (Bk 1 p. 80): the second from The Skye Collection (1887) and by Scott Skinner.
– – – – – – – – – – – – – – – – – – – – – – – — –