Born   August 15 1930, Cardiff, Wales.  Married Diana, in Bristol in 1960 (three sons – Andrew, Nicholas and Stephen).
BA (Hons Music) 1952, MA 1970 (Wales), PhD 1982, (Edinburgh), Associate of the Royal College of Music, London (pianoforte teaching, with Honours), Dip. Ed. (Wales, 1953).
Professional  interests.
Music Education.  My working career began at a number of secondary schools including heading the music department of Withywood Comprehensive School, Bristol before moving to Redland College of Education as a lecturer in music education.
Ugandan music.  This dates from when I took up teaching posts in Uganda in 1964, firstly at Makerere College School and then as head of the music department of the new National Teachers' College (now Kyambogo University).
Scottish music.  Returning to the UK in 1968 I taught for a year at Moray House College of Education, Edinburgh, before taking a post as senior music researcher and lecturer in the School of Scottish Studies at the University of Edinburgh.
Applied ethnomusicology –   Multi-media techniques for inter-cultural music education and the creation of teaching packages.
Archiving. My Scottish research was closely linked to the archiving work being done at the School of Scottish Studies. There I also took on responsibility for organising the  John Levy archive.
Scottish and Indian fieldwork recordings are archived in the School of Scottish Studies and some of the Scottish material is also available online at the Tobar an Dualchais website.  Over 1300 of my African field recordings are available in the sound archive of the British Library (BL Sounds).
Other archiving experience is listed below.

CURRENT AND PAST ACADEMIC POSITIONS
1998–2016 – Hon Research Associate at School of Oriental and African Studies, London where I give some occasional post-graduate supervision and undergraduate teaching.
June 2006–present –  Visiting Academic  in the Institute of Advanced Research in Arts and Social Sciences in the University of Birmingham.
1998–2011 – Part-time Lecturer in Ethnomusicology  at the University of Birmingham.
2002–2003 –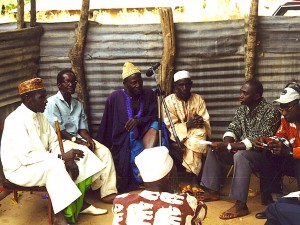 Consultant for a World Bank funded project at the Gambia National Museum, Research and Documentation Centre – refurbishing its archive and retraining its staff.
1998–2004 – Part-time lecturer at the University of Wolverhampton.
1991–1994 – Honorary Fellow, School of Scottish Studies, University of Edinburgh.
April–September 1991 – Leverhulme Fellow, School of Oriental and African Studies, University of London. Researching multimedia techniques for music education.
2000–2001 – Part-time lecturer (ethnomusicology) at the University of Sheffield, department of music.
2002 – Consultant to the Royal Scottish Academy of Music and drama, Glasgow. A six-month pilot project for an on-line sound archive.
1994–July 1995 – Professional Assistant – for the National Museums of Scotland, digitising and archiving the Jean Jenkins Collection of field tapes and documents.
1991 (first semester) – Research Professor at Indian University Archives of Traditional Music indexing and organising Laura Boulton's collection of field recordings.
1989–1994 – University Fellow at Edinburgh University School of Scottish Studies following early retirement in September 1989  and requiring that the Autumn term of each year be spent in research and teaching.
1989–1995 – Part-time lecturer in Practical Ethnomusicology and Scottish Music, at the Royal Scottish Academy of Music and Drama, Glasgow.
1969–1989 – Lecturer, later Senior Lecturer and head of Ethnomusicology Programme, University of Edinburgh, School of Scottish Studies. This involved extensive fieldwork throughout Scotland as well as teaching all aspects of musical folklore. I also initiated the teaching of ethnomusicology in the Faculty of Music and supervised numerous post-graduates in successful Master and Doctoral work in both departments.
1964–68 – Teaching in Uganda   firstly as head of music at Makerere College School then as director of music at the  the newly established National Teacher's College, Kyambogo.
1961–4 – Lecturer in Music Education, Redland College of Education, Bristol.
External Examiner – BA (Scottish Music) candidates at the Royal Scottish Academy of Music and Drama. Also postgraduate ethnomusicology degree candidates at Univ. College, Cork; Queen's Univ. of Belfast; Univ. of Cambridge; Univ. of Leeds; Aberdeen University; Univ. of London (Goldsmith's College and the School of Oriental and African Studies); Limerick University; University of Otago, New Zealand; Toronto University, Canada.
Academic and Public offices
Senate Member  – University of Edinburgh,1987-89.
Member  – Executive Board of the International Council for Traditional Music, 1979–86.
Chairman  –  UK Chapter of the International Council for Traditional Music, 1973–80 and 1988–90.
Member  – Executive Committee of the Scottish Council for Dance, 1980–87.
Member  – Working Party on Arts Education for a Multi-Cultural Society (Arts Council of Great Britain), 1988–89.
Chairman – ICTM UK Chapter Working Party on multi-cultural music education resources 1988–1993
Editorial Board – Folk Music Journal; SOAS Musicology Series.
Member also  – British Forum for Ethnomusicology (Hon, Life Member).
Other musical interests.
Conducting:  Chorus master and assistant musical director Bristol Opera School (1950s and 60s); Kampala singers and Occasional Orchestra Uganda;  Kericho Music Ensemble, Kenya.    Consort playing on viols and recorders; 'folk' fiddling.   From 2001 to 2014 I served as Musical Director of the Birmingham Branch of the Society of Recorder Players.
A brief listing of general publications
Senior Consulting Editor  – all the non-western and European `folk' music articles in The New Grove Dictionary of Music, London, 1980 (and author  of over 40 articles in the same work).
Additional articles "Joseph Kygambiddwa", "Benedicto Mubangizi", "Pitch II", "Polyphony II & IV", "Bow III", "Uganda": Revisions to – "Heterophony", "Neck", "Ngoma", "Notched flute", "Pygmy Music", "Soundhole", "Water drum", "Slit-drum" for the The New Grove Dictionary Of Music and Musicians 7th edn.: (London, 2000).
Author or reviser of numerous entries on African and European instruments in The New Grove Dictionary of Musical Instruments (Macmillan, 1985) and for over 150 entries on Ugandan instruments in the revision (2014).
Editor: Studies in Traditional Music and Dance, Proceedings of the 1980 Conference of the UK Chapter of the International Folk Music Council, Edinburgh, 1981
Author: 'The violin – instrument of Four Continents'. Chapter in The Cambridge Companion to the Violin the Violin, ed.: R. Stowell Cambridge 1992
Editor: Historic Musical Instruments in the Edinburgh University Collection, Vol 2/ Fascicle 1, Wind Instruments of Regional Cultures Worldwide.
For other articles and books etc. click in the menu for Africa, Scotland. . .