Omukuri gw'enteguzi (wedding flute) – played by a flautist  on a simple notched four-hole flute – when on the day of the wedding the groom's party arrives within earshot of  the home of the bride to be. Recorded by B.K. Mubangizi 1967 in southern Nkore.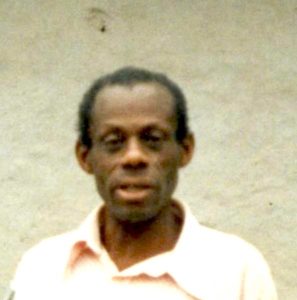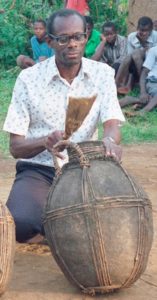 I first met Mubangizi when he arrived in 1966 with a dozen other school music teachers and teacher-trainers for an in-service music course I conducted at Kyambogo National Teachers' College. He was a quiet man and though he had become a teacher trainer he was largely a self-taught scholar. Unlike his colleagues on the course he was not a very lively participant and seemed permanently tired.  When I asked another course member about this I was told that while they were asleep in their dormitory, Mubangizi stayed up busily writing through the night.
I learned that despite ill-health his muse never allowed him to rest. He composed hymns and songs in traditional styles, wrote children's books and novels, collected and published traditional tales as well as writing historical and linguistic contributions. His hymnbook, Mweshongorere Mukama ('Let us Praise the Lord', Kampala, 1961, 6/1987), was adopted for use throughout the diocese and further afield and contains 79 of his own compositions. A second unpublished collection of the same title contains a further 65 settings, including arrangements of Latin, French and English hymns. 
When I introduced him to Prof. John Blacking who came for a couple of visits to Uganda to teach at Makerere University and to explore Uganda's rich musical traditions, John was also impressed and he helped to secured a fieldwork grant for Mubangizi to enable him to explore the traditional music repertory more distant from his own home in Kitabi, Nkore.  The flute song at the head of this blog is just one of the many items he recorded as a result.
When in 1968 the Roman Catholic church adopted Mweshongorere Mukama for its chief musical liturgy,  Mubangizi was asked  to introduce and to teach his hymns to Catholic choirs throughout Western Uganda.
Being conscious of the need to always make use of traditional Ugandan musical styles, he enjoined users not to introduce harmonies other than those produced by overlapping refrains in some of the hymns, for he had  carefully preserved the traditional relationships between speech tone and melody when composing his hymns. He was acutely conscious of the nonsense that can be produced  produced when Runyankore texts are simply added to European harmonised hymn tunes. Such a practice had nevertheless become common  for all denominations throughout Uganda.
The following example illustrates Mubangizi's style well. Here he uses the rhythm tapped out on large pot-drums to accompany voices where the overlapping choral refrains (voices 2 and 3)  remind one of the low sounds made by cattle. The song adopts the style of the ekitaaguriro men's dance which likewise begins with the men responding to the recitation of a soloist with low sounds before the they rise to their feet and individually stamp out out rhythms accompanied by a flute, pot drums and rattles.
Enyonga zaija niitara.
This abbreviated performance differs slightly in places from Mubangizi's score which is typeset below.
Members of the Kitabi 'Musilit' organisation perform the ekitaaguriro dance, (1987).  The foot stamping along with the raised arms (reminding one of the long horned cattle raised by the Banyankore) demonstrate their  affection for their beasts.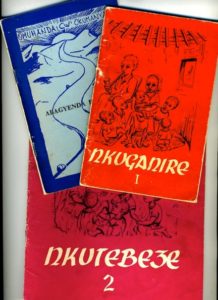 Three of Mubangizi's many little books of tales and poems for children.
When I visited his home in 1987 and 1988 Mubanizi arranged for me to meet a number of the best exponents of Nkore's traditional arts and record and film the parish choir and other performers in his Musilit organisation.
One of the many hymns sung during meeting  was this Easter carol below. The 5/4 rhythm  is a rhythm  traditionally used for some dances.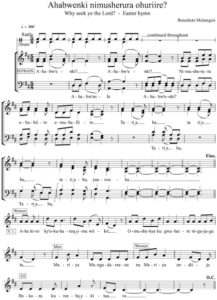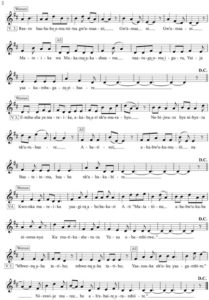 Translation:-
Why seek ye?  Why seek ye the living among the dead.
He is not here, He is not here, He is not here, He is risen.
As it began to dawn towards the first day of the week,
Mary Magdalene and the other Mary came to see the the sepulchre.
And behold there was a great earthquake:
For the angel of the Lord descended from heaven and rolled back
the stone from the door and sat upon it.
His countenance was like lightning , and his raiment white as snow:
And for fear of him the keepers did shake and became as dead men.
And the angel said to the women, "Fear not; for I know
That you seek Jesus, who was crucified.
He is not here:  He is not here.   For he is risen as he said.
Come and see the place where the Lord lay."