For nearly two decades the HOLBORNE CONSORT has flourished in Sutton Coldfield. Named after the 16th century English composer  Anthony Holborne and founded by Beresford King Smith, it has enjoyed meeting regularly and occasionally contributing to local concerts.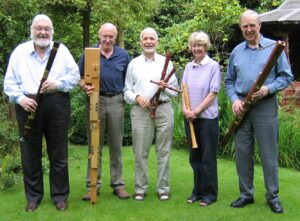 Until recently its membership consisted of the genial 'uncle' Beresford (on the left of the photo), a player and a composer and arranger of music for choirs and recorders –  plus David Yates, me, Diana and Jim Rowley(extreme right).  Ann Tuesley (from Coventry) joined us when Jim moved away from Sutton Coldfield recently. Then when I retired  from playing because of hearing problems  Stephen Shaw and his wife Janet joined the consort, currently making a team of six which is a useful number, enabling the group to play at both 8ft and 4ft pitch using great bass and  contrabass recorders, the latter of which is pictured.
The local U3A also has a keen group of recorder players. They are  of varying ability, organised and led very effectively by Jenny van der Molen. Recently however the group's activities have been reduced because of 'lockdown'. So sharing recorder music recordings and videos via the internet and taking part in the occasional 'zoom' events  are ways of keeping interest alive until the whole group can safely meet up again.
I hope the following  examples of the Holborne Consort's playing will also help to maintain the interest along with the many other contributions being supplied by members.  These recordings date from about 12 years ago.
The Night Watch – Anthony Holborne. A five part piece popular with both groups and, I suspect, among many other recorder playing groups worldwide.
 Two more dances by Holborne – a Galliard  and an Almain.  I had forgotten the name of the second, but Jenny van der  Molen tells me that it is Almain no. 56 in the London Pro Musica edition of its complete set of Holborne dances.

The Galliard intrigues me the for the way it was notated in the Schott 1952 edition Suite for Recorders. I cite the opening of it as John Parkinson gives it (in 3/4 time) and follow it with an alternative: Version 2  where I think the notation better expresses the musical structure and also helps to explain the nature of the stepping in the dance.  What do you think?.  Comments welcomed especially if you have danced Galliards.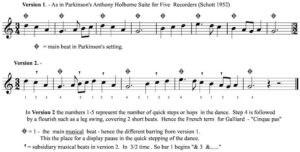 and lastly —
Prelude on the Hymn tune 'Rhosymedre' (R. Vaughan Williams)
One of  Beresford's impressive arrangements that uses some of the larger recorders.
– – – – – – – – – – – – –