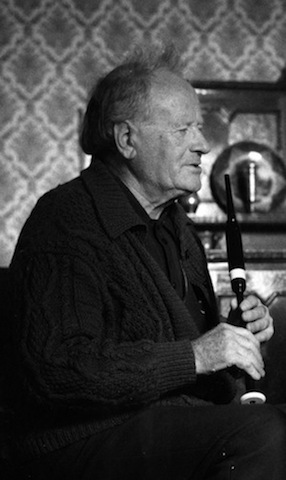 I've been pleased to read on the Altpibroch website three recent blogs discussing the piping knowledge and ability of George Moss (b. 1903). Robin Andrews' three essays discuss George's ideas and his examples of 'traditional' timing. Robin continues with a discussion of George's favoured ways of performing variations such as the Taorluth. The three accounts are illustrated by sound examples and by several different types of notation – as well as some of my fieldwork audio recordings downloaded from the Tobar an Dualchais website or from the CD Pibroch: George Moss (No. 15 in the Scottish Tradition Series, Greentax records).
During my 30 years of fieldwork amongst Scottish musicians I found George to be the most authoritative and knowledgeable piper I met. I was pleased when in 2015 Greentrax Recordings reissued on CD the cassette I had published two decades earlier. You may not know that a separate CD booklet, containing rich information as well as numerous transcriptions, is also available at https://www.ed.ac.uk/files/imports/fileManager/pibroch_revised2_small.pdf
George was a competent notator himself and I am adding here some transcriptions which he wrote out and gave to me. They are prescriptive notations rather than the highly detailed descriptive ones which I made from his recorded playing and which were included in the booklet mentioned above. George's notations nevertheless indicate clearly the general timing and sweep of the phrases and the structure of each tune and I am providing them here in response to a request from Robin Andrews for further transcriptions.
Here's the first, The Rout of Glenfruin
George used the following abbreviations in addition to the Gaelic names for the different variations:- Urlar – Ground; SO – Siul Ordaig (Thumb Variation); SO. 2 – Second thumb variation: T – Taorluth variation: TM – Taorluth a Mach variation: C – Crunluth variation: CM – Crunluth Mach.
He also labelled the principal phrases A, A1 and A2,  and B, B1 and B2;  but because of the large size of the original paper which George used the xerox machine cropped some of them off on the extreme  right hand side. The phrasing for most of them  conforms to the standard form:- Line 1 –  A1, A2 ,B1 Line 2 – A2, B1, B2 and line 3 – A2, B2 as in this first tune. Sometimes he simply numbers the phrases '1' and '2' as in Dornie Ferry and Weighing from Land, both of which have the phrase structure –  1. 1. 2.,   1. 2. 2.,   1. 2.
RUAIG GLEANN-FRAOIN
THE ROUT OF GLEN FRUIN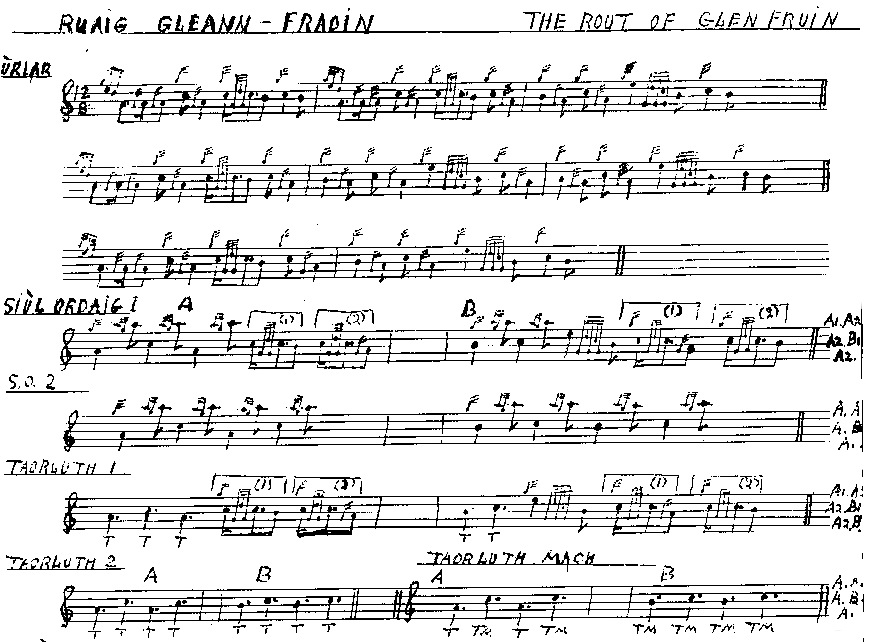 MAOL DONN
sometimes called   MacCrimmon's Sweetheart
George's version below sets out very clearly the tune's prevailing rhythm and structure.  Again his notation is uncomplicated rhythmically for he makes no attempt to show the shortening some of the weaker notes within his chosen 12/8 metre. It also reinforces his view that the introductory E should always be regarded as only that – an introduction (anacrusis) playing no part in the prevailing metrical structure.
To save space he uses the letters A X and B to indicate the three basic phrases which recur in their different forms in the variations and he provides a key at the bottom showing the note content of the taorludh and crunnludh movement
George chanted the tune for me during one of my fieldwork sessions with him in 1970. It is identical with his notated setting except for when he took a breath after the very first phrase of the Urlar and prefaced the second phrase with another introductory E. You can hear his chanting on the Tobar an Dualchais website during the last 2 minutes of the item following a longish discussion on canntaireachd  (he begins chanting this tune at 18'27").
THE LAMENT FOR MARY MACLEOD
George's own handwritten notation for this well known tune is now missing but fortunately a fair copy had been made by Hugh MacDonald, a research student at the School t the time. We include it here. Notice how rarely George included E introductions in the variations.He was very insistent that this lovely tune should flow without interruption.
FAILTE NAN SIOSALACH
THE CHISHOLMS' SALUTE
I presume this was well known to George since it probably refers to the Chisholms of Strathglass, George's own ancestral home area. Several other versions bearing the same name are quite different from this tune and George explained that most of them, like Angus MacKay's record,  do not show them beginning with the low A. On the Tobar an Dualchais website you can listen to a 1971 recording of him playing his version on a practice chanter fitted with a foot bellows normally used for pumping up my inflatable rubber dinghy!  The poor condition of his lungs at that time prevented George from blowing the chanter by mouth.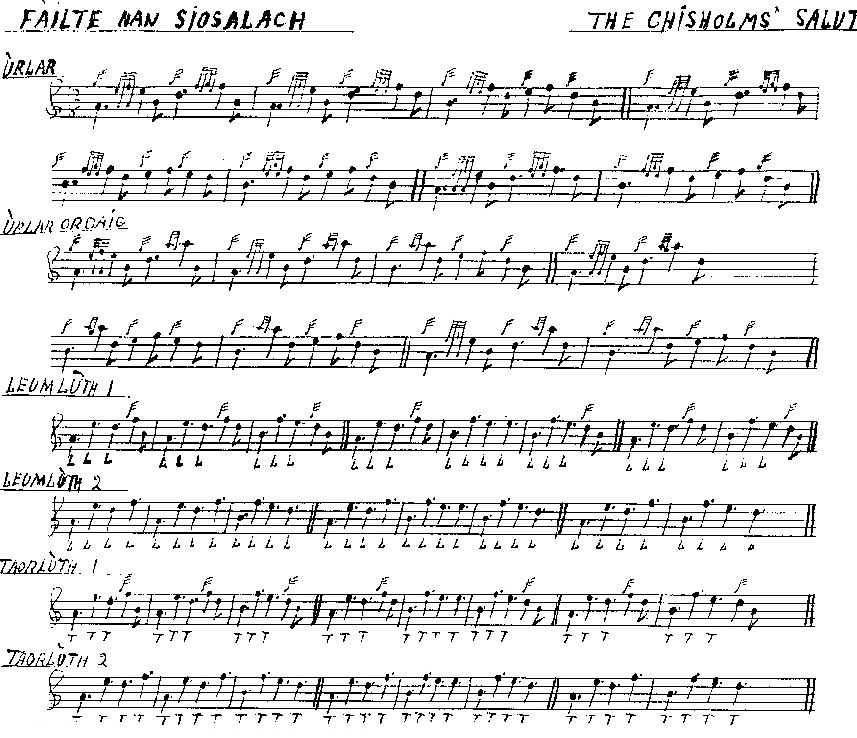 PORT NA DORNAIG
 DORNIE FERRY
Sometimes bearing the title meaning the Battle of Dornie or the Day of Dornie, other early MS versions  all show difficulties in barring this tune sensibly.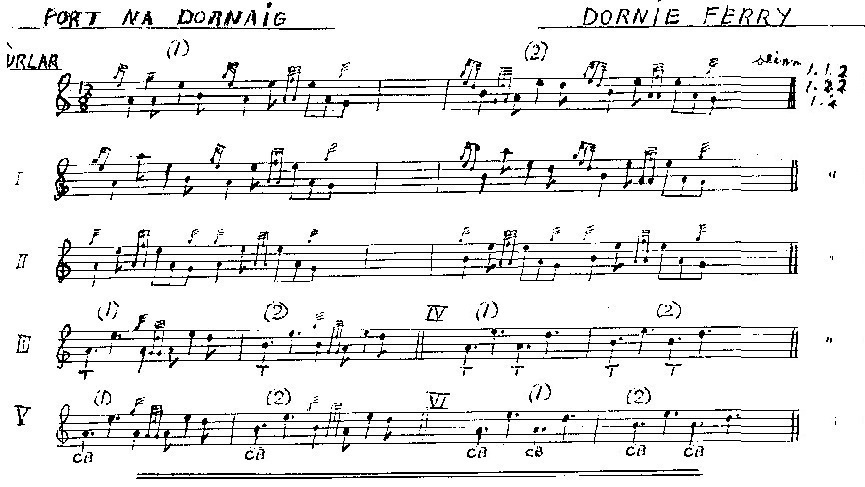 TOGAIL O THIR
WEIGHING FROM LAND
Angus MacKay and others after him omitted the first low A in the first phrase of this tune each time. In insisting that it should properly begin with the low A, like Chisholm's Salute above, he referred me to  the Colin Cambell canntaireachd version which begins each of the two phrases with the vocable hinde.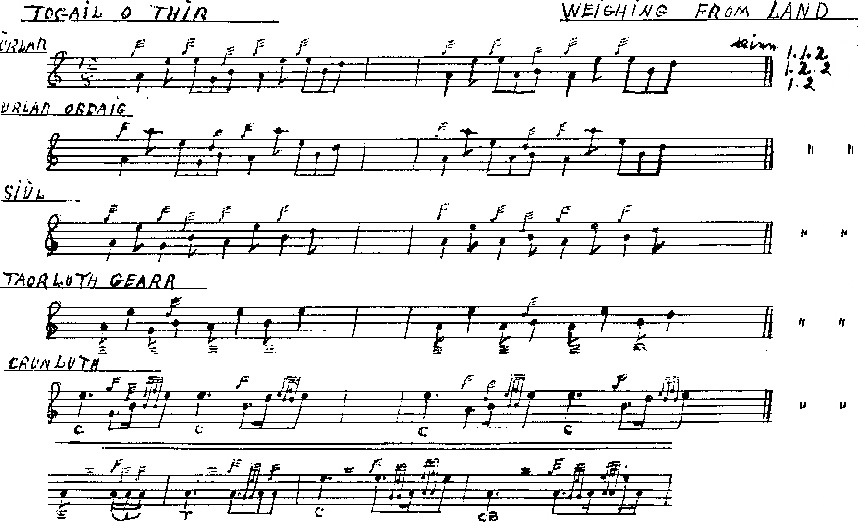 GRAN A SEICHEANAN AGUS SIOL AM POCANNAN      GRAIN IN HIDES AND CORN IN SACKS
Angus Mackay and Colin Campbell are the sole sources for this tune with the Piobaireach Society basing its version on MacKay's setting. George criticised both MacKay's and the Society's settings because of the many 'introductory' E's written into the bars thus holding up the flow of the tune. You can hear George discussing this problem on the Tobar an Dualchais website at http://www.tobarandualchais.co.uk/en/fullrecord/68930/1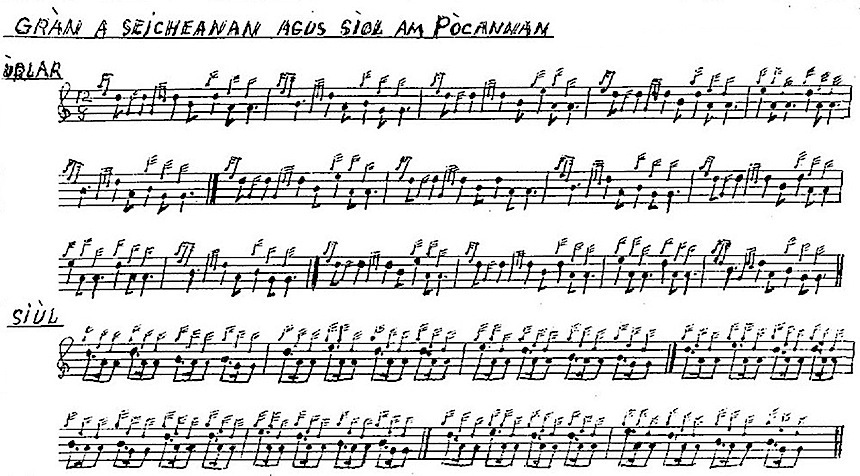 Hugh MacDonald's fair copy has been used here because of the poor condition of George's copy.  On the Tobar an Dualchais website you can hear a rudimentary performance of this pibroch recorded in 1972 with Rona MacDonald blowing the pipes and George fingering the chanter.
DONAL AN LAGAIN          DONALD OF LAGGAN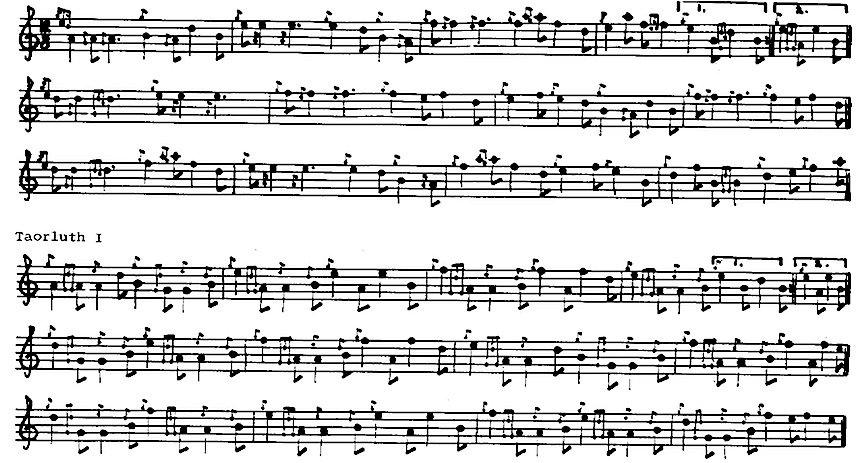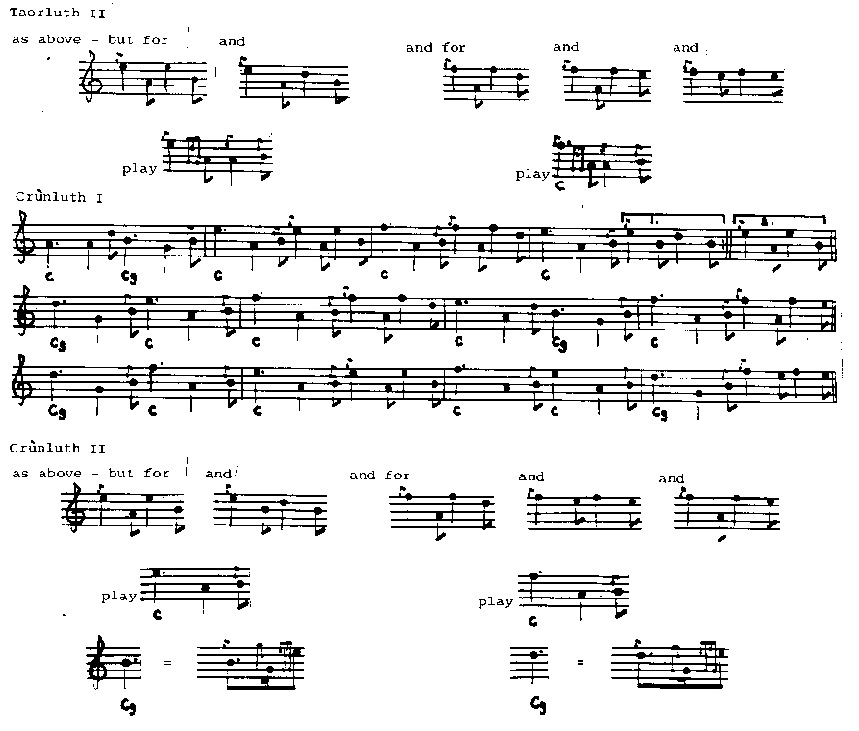 CRONAN NA CAILLICHE'S A BHEINN BHRIC
THE OLD WOMAN'S LULLABY
You can hear George chanting much of this tune , until he stopped on making an error at
http://www.tobarandualchais.co.uk/en/fullrecord/71804/1.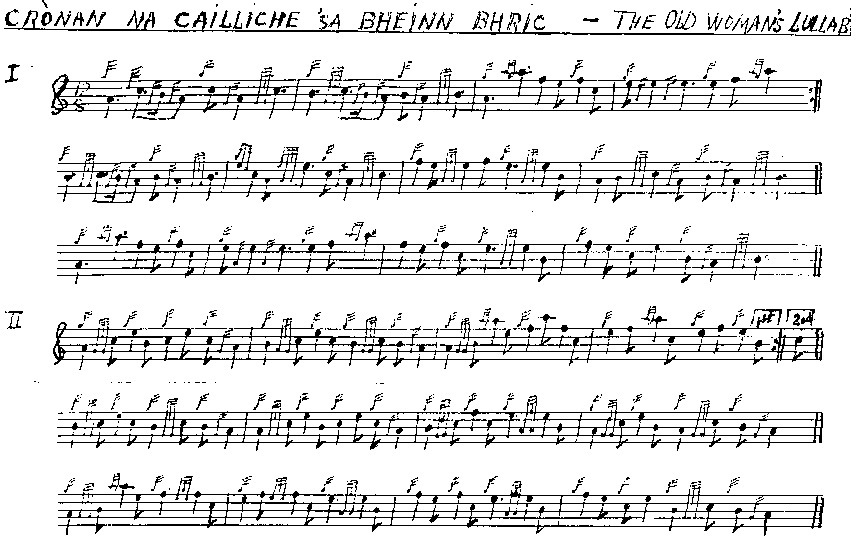 STRUAN ROBERTSON'S SALUTE
This is the last of the set of pibroch notations carefully penned by George which he xeroxed and gave to me. You can hear him play over the ground of this Salute on his practice chanter, near the end of a long discussion on 'the old style' of playing pibrochs. It was recorded in September 1981 and is available for listening at http://www.tobarandualchais.co.uk/en/fullrecord/68930/1.  His playing begins at 25′ 45″.
Those are all of George's notations. Examine them and send me comments.  And do listen to his playing both on the CD and on the Tobar an Dualchais website.