In my earlier writings about George Moss I mentioned that when I first met him in 1970 he was no longer playing his bagpipes.  However by the end of that decade he was prepared to try blowing them up for me to record a few samples of his style.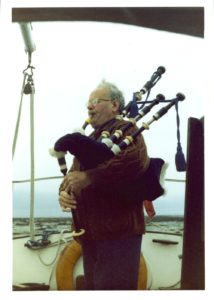 This photo was taken on board my sailing cruiser Foxglove in 1981.  I had anchored in Inverness Firth a few yards off shore from his cottage close to the beach at Kessock . I was on my way home after a long summer cruise with my family among the outer Hebrides.  That cruise had given me the opportunity to meet many fine traditional musicians and to witness some of the events at the South Uist Highland Games.
We spent a couple of good evenings with George and his neighbours and my crew Manfred Szell.  On the morning when we
sailed off to continue our return to our home port (Cramond) George came aboard for  brief ceilidh and blew up his pipes.