Gayaza Girls School is situated around 12 miles north east of the Uganda's capital, Kampala. It is the country's oldest all-girls boarding secondary school,   founded in 1905 by the Church Mission Society, and has
 

a long tradition of excellent teaching – including both European and traditional Ugandan music.  Its musical performances have long been admired. In 1983  the choir with its conductor Janice Hobday,  visited the UK to give  performances. Hence this recording.
I'm grateful to Janice,  one of Gayaza's former music teachers, for the use of these recordings originally produced on cassette for the Church Mission Society. They are still much sought after by Gayaza alumni, many of whom are now living and working in the UK. Janice, who has an excellent soprano voice, sang as a soloist in several concerts which I conducted during the 1960s. She continued to teach there all through the troubled years of Idi Amin's chaotic rule. Now retired she lives in Smethwick, West Midlands.
In their Hour of Praise they sang 27 items.  Apart from Kodaly's composition and a few traditional hymns the vast majority were composed by Gayaza girls themselves
Enjoy them!
 1      Hallelujah! Jesus is alive today.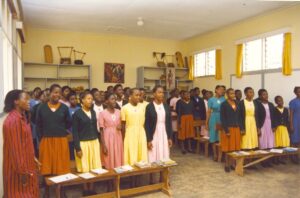 2. Mony ocoro.  The army of the Lord has come. (Acoli)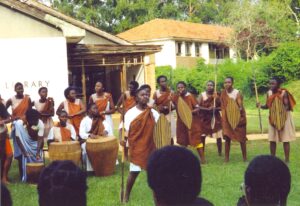 3.  Down, down in the city.

4.  Psalm 23 (in Runyankore).  

5. Psalm 150.  (setting by Kodaly)
The birth of Jesus.  
   6. Peace be with you. (St. Luke – Ch.1)

7. "O Glory! Hallelujah" (Magnificat)

8. The Glory of the Lord (Isaiah 60)

9. Simeon's Song (Nunc dimitt is)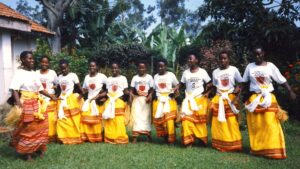 The Ministry of Jesus
 10. Yezu alokola
11. Hosannah
Jesus and his resurrection.
   12. Why did you choose to die?
   13 Atwemda (Soga)
14 Mazima Yezu ni murungi (Truly Jesus is good).
15. Nze mbanymiza uwima Yezu.
   16.  He is risen
Ascension and Pentecost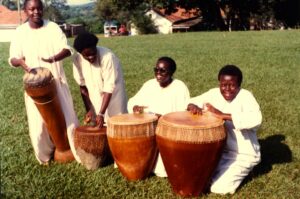 17. Glory and honour to you, King of Kings.
18 In tongues of living flame.
19. Moto (the fire of the spirit is burning)
20. Bulijjo tutendereza  (the Uganda Martyrs)
21 What can separate us from the love of Christ?
22. Do not be afraid. 
Our life in Christ
23. New life in Jesus
24. Holy, Holy, Holy.
25. Ama zi ama (Lugbara)
26. Lubanga ne tye.  God is there in my heart.
27. We praise your name.